Games Times
A Parent's Guide and How to Encourage and help children to play independently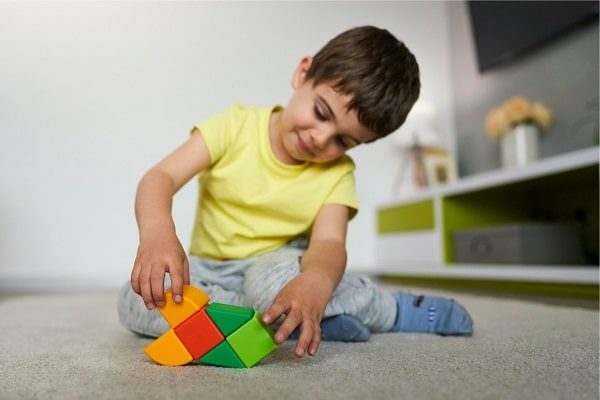 Independent play is an important part of child's development, and it is a skill that needs to be nurtured and developed over time. Although it is important to engage in play sessions with your child, they will also benefit from having time alone. For example, a child that can play independently is able to embrace their imagination to the full. Without an adult there to guide them, they are reliant on their own mind to create magical adventures and artistic masterpieces. Similarly, without the presence of an adult, a child inadvertently hones their problem-solving skills as they are forced to evaluate and solves the issues that they face, independently. This helps to boost self-esteem and confidence in even the shyest of children, leading to positive developments in areas of social interactions. They are more open to embrace a conversation with their peers and these are skills that they take into adulthood.
In this way, the ability to play independently is something that as parents and caregivers, we need to be actively encouraging. Here at The Good Play Guide, we make it our mission to explore and evaluate products that we feel will benefit your child in specific developmental areas. This article is focused on those products that have been identified as being beneficial to independent play.
Magicube Shapes- 100% recycled plastic
The Magicube Shapes sets are the perfect toys for encouraging independent play.  Designed for children aged between 12 months and 5 years, this broad age range makes it ideal for use with infants right through to school-age children. What makes this product so unique and well-positioned to encourage independent play, is its magnetic element to it. For those younger children whose hand-eye coordination is still in the early stages of development, when playing with traditional blocks, they are often reliant on the support of an adult to help to stack and build a tower. The magnetic nature of these blocks means your child can stack these to their heart's content without fear of them coming tumbling down. This lays the foundations for independent play as the child is less reliant on an adult helper in these types of activities.
In a similar way, an older child can create more obscure structures, for the same reason as above. Animals, transport, and an array of objects can all be created, with pieces being able to defy gravity thanks to the magnetic forces at play. Leave your child to their own devices and really let your child understand the limits of their imagination!
Geomag Magicube Shapes 6pcs (200), $20 from ToysRus.com.au
Geomag Magicube Shapes Animal 9pcs (201), $37 from ToysRus.com.au
Geomag Magicube Shapes Blocks & Wheels Set 13pcs (202), $35 from ToysRus.com.au
Magicube Full colour- 10% recycled plastic (16/24 cubes)
The Magicube Full Color sets are a great first set of building blocks. Like the Magicube Shapes sets, they encourage independent play, due to the magnetic forces within each block, making it easy for young children to stack the pieces together. They are bright and bold and are easy to wipe clean, so it doesn't matter if they get dirty during a particularly adventurous play session!
Each block is the same size and shape, making it even easier for the children to build the tallest of towers and the durable material means you don't have to worry about your child playing gently with them! Allow them to explore the four different colours, sort them into piles or create their very own masterpieces. What they decided to do is up to them and you can sit back and watch from afar as your child explores this wonderful world of play, independently.
Magicube Full Colour Try Me 16pcs (067), $55.99 from OnlineToys.com.au
Magicube Full Colour Try Me 24pcs (068), $64.99 from OnlineToys.com.au
Geomag Supercolor- 100% Recycled plastic
Designed for the slightly older child of five and above, the Geomag Supercolor Panel sets comes with magnetic rods, metal spheres, and plastic panels in a variety of bright colours.  Following the same principle of the Magicube, your child will be able to connect the pieces using the principle of magnetism. This provides the ideal educational platform as they learn about how magnets repel and attract.
The concept of the Geomag is simple in design, but the possibilities are far from simple. It is this simplicity that means that parental intervention will not be needed or be minimal at best.
Although the set is great for allowing a child's imagination to be stretched to its limits, equally some guidance can be given for a different type of play session. Set your child items to make, beginning with 2D shapes and moving to 3D ones as their competency improves.   The important thing to remember is to leave them to it once you have set their challenges. Why not up the excitement by setting a timer and seeing what they can create within a time limit. By doing this, your child is gently being introduced to the concept of independent play but in a safe and nurturing environment.
Geomag Supercolour Panels 35pcs (377), $39.99 from OnlineToys.com.au
Geomag Supercolour Panels 52pcs (378), $45 from ToysRus.com.au
Geomag Supercolour Panels 78pcs (379), $65 from ToysRus.com.au
Geomag- Classic Panels- 100% recycled  
This is the classic version of the Geomag Panels family, coming in red, yellow, and orange rods and panel pieces, the possibilities are limitless with the ability to make a wide range of shapes and objects from the many pieces available. Similarly, to Geomag Supercolor, this a great set that a child can play with on their own for hours at a time. One of the benefits of learning how to play independently is that they develop the skills used in communication, which helps with all forms of social interactions.
Playing independently is not necessarily about playing in isolation. Children can play independently, side by side, creating their own amazing creations within a social setting. Allow them the space to talk about what they have made, with each other. There is no need for parental intervention here at all as they find their own way in a social setting with peers!  Geomag sets are all compatible meaning it's easy for kids to join several sets together to play together.
Geomag Classic 25pcs (275), $29.99 from ToysRus.com.au
Geomag Classic 52pcs (471), $44.99 from OnlineToys.com.au
Geomag Classic 93pcs (472), $64.99 from OnlineToys.com.au
Learning to play independently is something that we should all encourage our children to partake in. It is something that can be done gradually over time but making some small changes will ensure your child is happy playing on their own leaving you free to get on with the adult jobs that need doing. Or perhaps a cup of tea and a biscuit on the sofa- Your choice!